Wiets at the Safari Club International Convention in Las Vegas, 4-7 February 2015 – Booth 359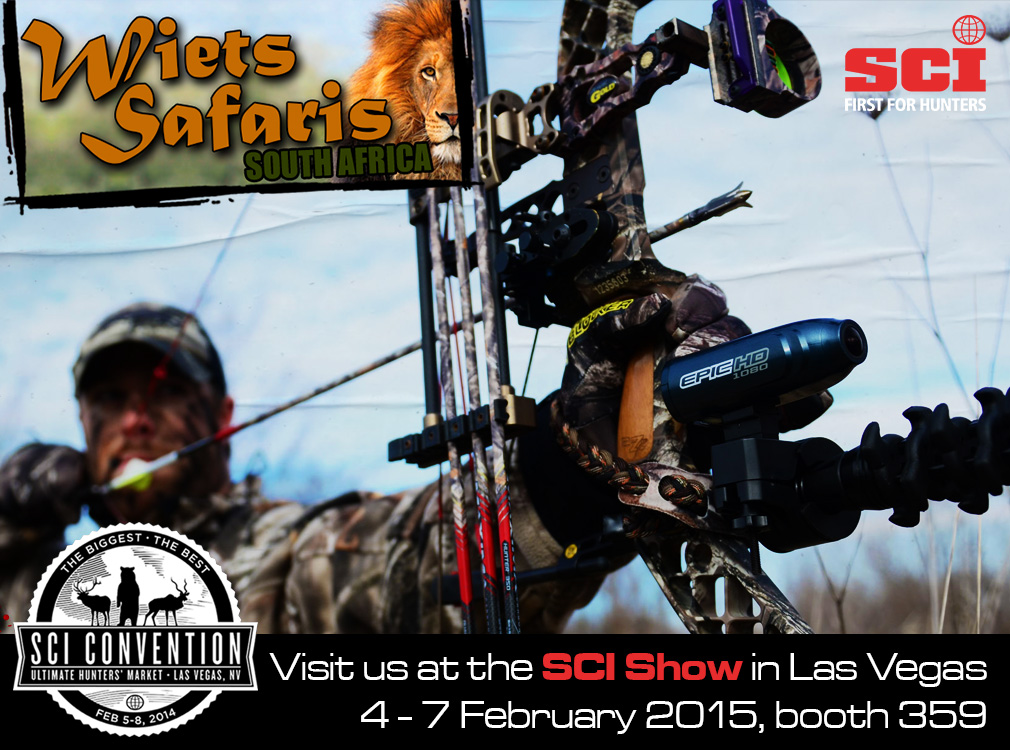 The Biggest & The Best goes to Las Vegas!
Ask any member who has attended the SCI Convention, and you will likely hear, "Sensational, you have to go! It is the Ultimate Hunters' Market and it's a knockout!"
The allure of SCI's 2014 Annual Convention attracted over 18,000 attendees. This hunters' heaven has everything the mind can dream of and occupies over 650,000 square feet of exhibit space. Six continents are under one roof where members come to book hunts, rendezvous with old friends and shop for the latest guns and hunting equipment. That only scratches the surface of products available at SCI's Annual Hunters' Convention. Notable authorities of the outdoor sports and shooting industries attend the premier hunting show annually.
There are dozens of informative and educational seminars designed to provide attendees the opportunity to learn new hunting techniques or refine old ones, discover imaginative ways to prepare wild game, or to glean tips on the best care for your equipment and gear. Countless topics that appeal to the hunting sportsman are covered.
When the exhibit halls close the evening fun and excitement begins. Each night, members come together to celebrate the accomplishments of the organization and enjoy top entertainment and speakers. SCI's evening auctions offer top of the line guns, once in a lifetime hunts, the finest artwork and more. Every purchase provides crucial funds to help preserve our hunting heritage and enable conservation efforts to occur around the globe.
Yes, it's true! SCI's Convention is the most dynamic and diverse hunting show today. You will find it to be the most powerful buying and selling environment in the outdoor industry. Mark your calendars and please join us for the 2015 Convention February 4 – 7, 2015, as we are returning to Las Vegas for our 43rd Anniversary.
Source: http://www.showsci.com/about
MORE ABOUT SAFARI CLUB INTERNATIONAL
Protecting hunters' rights and promoting wildlife conservation, SCI's two areas of focus, historically has been the interest of hundreds of individuals long before SCI was established. But how did SCI as an organization begin?
Forty years ago, there were many safari clubs across the country made up of local, unaffiliated groups of hunters. One such was Safari Club of Los Angeles, which was formed in April 1971 by forty-seven individuals. In early 1972, an out-of-towner from a similar club in Chicago attended one of the monthly Wednesday night meetings, and it was decided that the L.A. club should attempt to combine with the one in Chicago to make it an affiliated chapter. The founder of Safari Club of Los Angeles, C.J. McElroy, went to the Windy City and instituted the new chapter.
Eleven months after the formation of Safari Club of Los Angeles, on March 9, 1972, the name was changed officially to Safari Club International. SCI continued to reach out to other independent safari clubs throughout the United States in an effort to combine them into a single overall organization.
Today, interest in SCI's two primary missions has grown a worldwide network. Subsequent involvement and promotion of these missions is rooted in each of our 55,000 members, supported through each of our 190 membership chapters found across the globe, and put into action by government representatives and personnel both nationally and internationally.
In this way, we can encourage an appreciation for nature and wildlife so that conservation efforts remain strong, while also fighting to protect our rich hunting heritage. Big changes can be achieved through the endeavors of many who are united in a mission – the mission of Safari Club International.