Wiets at the National Wild Turkey Federation Show in Nashville, 12-15 February 2015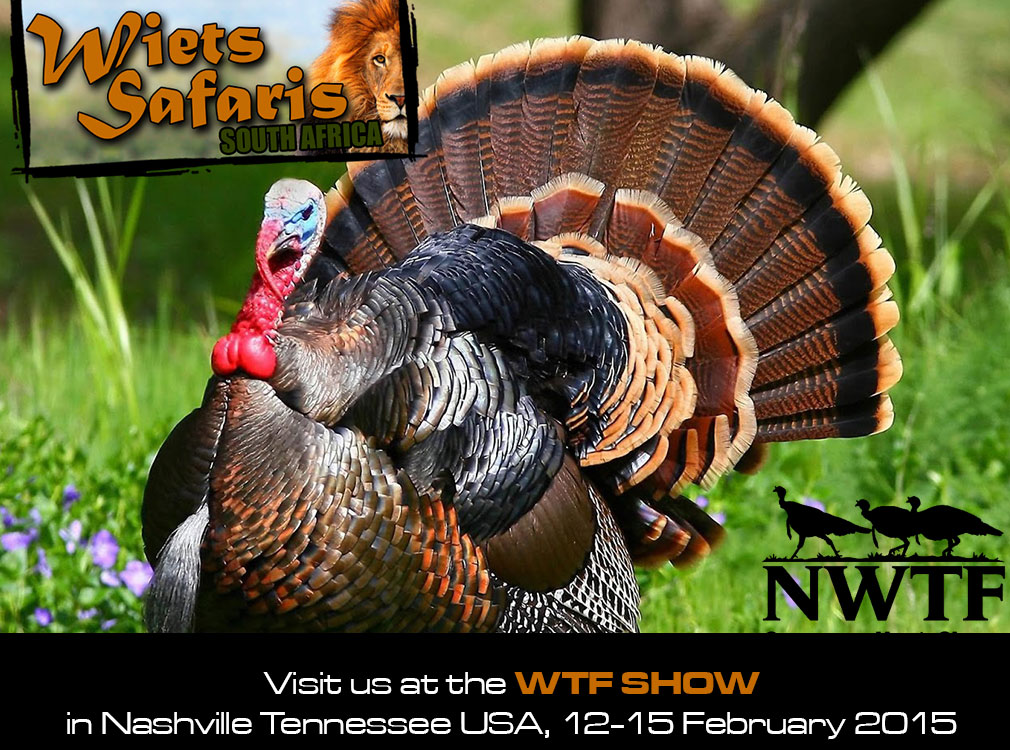 THE NATIONAL WILD TURKEY FEDERATION PRESENTS
The 39th annual NWTF Convention and Sport Show
12-15 February 2015 at the Gaylord Opryland Resort and Convention Center in Nashville, Tennessee
Dont Miss the Biggest NWTF Event of the Year!
Fun for the entire family
Share hallways with celebrities
Shop hundreds of vendors
Activities for young and the young-at-heart at the Family Adventure Village
Watch the best callers vie for the ultimate title during the Grand National Calling Contests
What's NEW for 2015
NWTF exclusive drink specials
High energy format for senior division calling finals
First time seminar speakers
Exciting raffle packages
It's not just one of the biggest hunting consumer shows in the country; it's where some of conservation and hunting's most devoted supporters come together for a weekend of networking, learning and a lot of fun.
We've put together a convention and sport show that celebrates the success NWTF volunteers and partners have had over the last 40 years. It's also a pep rally for the great things to come.
2014 attendees saw that registration was easier to navigate. We gave our Family Adventure Village its own building and made it a destination for the young and young-at-heart. And we built the Wild Turkey Bourbon Waterin' Hole, the social hub of our convention where attendees can grab a bit to eat, have a drink with friends and listen to live music.
The exhibit hall is open Friday, Feb. 13- Sunday, Feb. 15th. Come early and begin your weekend at the Welcome Party on Feb. 12. The Welcome Party will be hosted by Ronnie "Cuz" Strickland and will feature a fun evening of dueling pianos and our first ever Wild Turkey Bourbon tasting.
What do you need to do? It's easy –
Make a hotel reservation at Gaylord Opryland by December 30 to be guaranteed a room. Free parking to registered guests and a lot of other perks!
Purchase your event tickets by January 12 to be guaranteed a seat at our banquets.
It's a weekend of fun for the entire family. The website will be updated frequently so check back for new information.
See you in Nashville!
Source: http://www.nwtf.org/special_events/convention.html
MORE ABOUT THE WILD TURKEY FOUNDATION
What is the NWTF?
The NWTF — a national nonprofit organization — is the leader in upland wildlife habitat conservation in North America.
Our History
On March 28, 1973, the Commonwealth of Virginia issued incorporation papers to a fledgling organization in Fredericksburg called the National Wild Turkey Federation.
The NWTF has come a long way since its founding chief executive, Tom Rodgers, took $440 out of his own pocket to put this organization in motion.
And what it has turned into is nothing short of phenomenal.
NWTF Rescues Wild Turkeys From Brink of Extinction
NWTF Helps Rescue Wild Turkeys From Brink of Extinction
Founded in 1973, the NWTF is headquartered in Edgefield, S.C., and has local chapters in every state.
The NWTF is dedicated to the conservation of the wild turkey and the preservation of our hunting heritage.
Through vital partnerships with state, federal and provincial wildlife agencies, the NWTF and our members have helped restore wild turkey populations throughout North America — from a mere 30,000 in the entire United States to more than 7 million across the United States, Canada and Mexico.
Who Are We?
We are sportsmen, women and children who care deeply about our natural resources and the wild places we love to hunt.
We cherish the memory of the ridge top gobbler we hunted last spring and fondly remember the cornfield where we saw that big buck at sunset two years ago.
Collectively, we come from all walks of life to engage in conservation and preserve the hunting heritage we all hold dear.
We're hunters…
Some of us follow bird dogs through waving stands of grass from south Georgia to Montana in pursuit of bobwhite quail and pheasant. And most of us would rather spend a bitterly cold winter morning knee deep in a flooded oak flat or beaver pond than waste that morning in a warm bed.
… the champions of conservation.
According to many state and federal agencies, the restoration of the wild turkey is arguably the greatest conservation success story in North America's wildlife history.
We have spent more than $412 million to conserve nearly 17.25 million acres of habitat.
That area is larger than the state of West Virginia.
Wild turkeys and hundreds of other species of upland wildlife, including quail, deer, grouse, pheasant and songbirds, have benefited from this improved habitat.
Our dedicated volunteers bring new hunters and conservationists into the fold — nearly 100,000 every year — through outdoor education events.
Source: http://www.nwtf.org/about_us