Steve Mayer , Las Vegas, Nevada, USA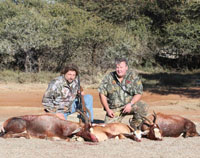 "WOW !!! What a diverse range of animals and unbelievable Free Range – The endless running of the Blesbuck – the springing of the Springbuck …. The impressive primitive nature of the Square Lip Rhino, the ripple of the quilted skin on the giraffe as it lopes away and snorkles its head above the canopy to see what has broken the peacefull existence it so much enjoys. I will never forget the roar and the grace of the White Lions, – or the radio squelch "Marita, marita, marita" – "Palie,palie,palie" – I will hear them all in my sleep for a long time – and remember the wave of the grain in the wind – the kudu, zebra, lechwe , etc. Ah Sweet Africa …. I will come back to you again !!
Thanks Wiets!
Thanks Freek and Marita !!!