SKIP & MARLENE REGENSKY – USA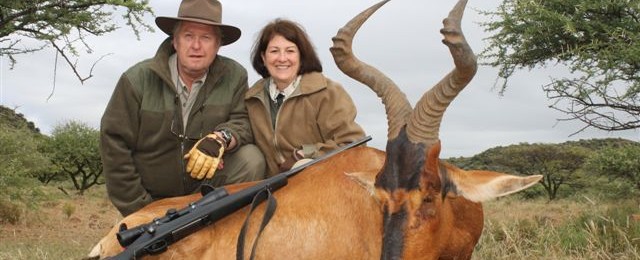 " To Wiets and Hetta Botes, and Freek and Marita WOW ! You people know how to run a safari camp. To Elsa: our Excellent Chef, we loved the food, y're the best. To Ruan, y're on hell of a PH. You not only found what I was here to hunt, but everyone went into SCI Record's Book. Can't wait to hunt with you again and sit by the fire having refreshments and telling stories. Paulley driver and tracker even though we did not give him much to track, we harvested the Springbuck (37″), Red Hartebeest (69″), Black Wildebeest (78″) and the Blue Wildebeest (86″ – with a 29″ spread).
We think half the animals in South Africa are on the plains of the Wiets Safaris Camp!
This is an outstanding reserve with exceptional quality and quantity of animals found in South Africa. To the owners and staff, you should all be proud of what you are doing for hunters like us.
This is an AFRICAN HUNTERS PARADISE!
The only issue we had with your safari camp we had to leave; but we will be back very soon.
Thanks very much for your hospitality !
Skip and Marlene Regensky "