Brent Mattis, NYC, USA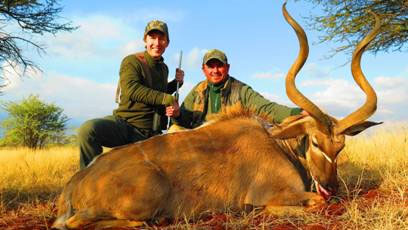 When I made the first bid on a "10 day African Safari" little did I know that it would take me halfway around the world to Johannesburg, then Kimberley, then a ranch house in the Free State, South Africa.
Marita, Freek, and Ettienne were gracious hosts for my wife and I. For 4 wonderful days from sunrise to sunset we hunted (weather could have been better, but I cannot fault Wiets for that!)
With Ettiene's fantastic help, he put me on 6 great animals: Impala, Blue Wildebeest, Eland, Warthog, Kudu & Springbok.
The Kudu was a tough and elusive trophy and taking it was a major highlight, especially after it tested our patience.
Ettiene did double duty as videographer and the results I will cherish forever.
Ettiene had incredible eyes for trophy quality within a second knew if a particular bull was a old enough to take or not. My Tikka T3 in 7mm Rem Mag performed admirably putting down all six animals quickly. Marita's cooking and dinner conversation were a real treat. We very much appreciated the long dinners with real South African Reds.
Wiets gave us a one in a lifetime experience that we will cherish for many years to come.