AARON REESE – KIRKLAND, WASHINGTON STATE, USA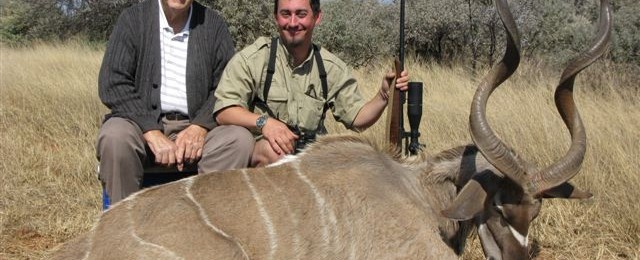 This is my fourth trip to Africa, everytime I come it feels like I'm coming to my second home. Everyone at Wiets Safaris did indeed make if feel like home! Elsa was such a kind and wonderful host and cook, I definitely am taking home a few more pounds. Marita did such an amazing job organizing everything for my hunt. My PH's both were highly skilled and very knowledgable in the trophy selection. Ettienne was fantastic, patient even when my shooting failed and I can say now a friend. The time around the fire was like sitting with family every night, and hearing the lions roar is total AFRICA! The hunting was hard but very rewarding. Till we hunt again, God Bless you all thanks for an amazing trip – See you in Vegas 2012!
LANCE SCHUBERT – SEATLLE, WASHINGTON STATE, USA
Well here it is time to go back home. The time just flew where did it go? What a wonderful time God had blessed my grandson and I. The wonderful animals and the new friends we have found here at Wiets Safaris. The fire at night like an old time camp meeting. Thanks so much we will see you at SCI – Vegas – 2012 .